Parents often struggle with what nappy to use for their new-borns, and many will opt for disposables for the first few weeks, even months. While this is not the end of the world, it can be easy to remain on the 'sposie path for 'just a few more weeks' until you reach a stage where you figure its not 'worth' buying any cloth nappies as your baby is already a 1/4 of the way through infancy. And then thats it, another 3000 disposable nappies added to the landfill before you know it!
But in all actuality, cloth-nappying a newborn is pretty simple, and doesnt have to look overly bulky. Remember, women have used them from birth for centuries! You will also experience far less of the new-born 'blow-outs' using cloth nappies then you would with disposables- which is always a good thing!
A super cheap and cheerful option is the muslin cloth– this can be tri-folded into a pad and simply placed inside a newborn size nappy wrap (the MotherEase Airflow, or Thirsties are good choices) and any bulk will be minimal. The muslin has plenty of absorbency to hold newborn wee's, but bear in mind that the tri-fold will not do a good job of containing that the lovely newborn poop we all know – however a good wrap, like the gusseted leg of the Thirsties will stop it going any further!  
Another excellent option is the Diddy Diaper.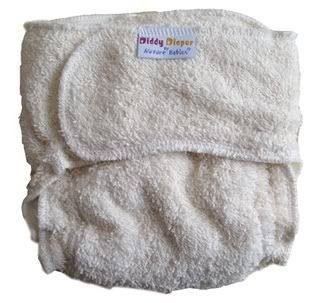 This is a fab little shaped cotton nappy, which is fixed with Nappi Nippas, or even a snug fitting wrap will hold it in place. The front can be folded down to fit smaller babies, and unlike the muslin cloth, will contain messes well. They are fantastic value at only £4.99 and will last your baby up to around 17lbs. The Diddy is our favourite newborn nappy, for its slim-fit, adjustability and value.
If you would like some more info on nappying your newborn, don't hestitate to contact us, and we will be more than happy to advise!
Other Posts that might interest you...